Explanatory video: Device CALs for your Microsoft Server
Access licences, known as Microsoft Server Device CALs (CAL = Client Access Licences), are needed for all devices that access your company's Microsoft Server.
In a short video, VENDOSOFT provides information about the purpose and authorisation of such device access licences. The video provides information about the questions including the following:
What access licences exist and how do they differ?
When do Device CALs make sense, and when do User CALs?
Which variant saves you the most money?
What should be considered – what licence gaps can arise?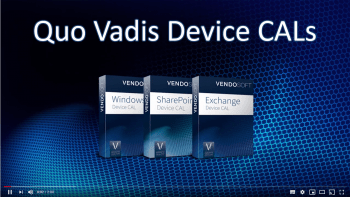 Use the explanatory video by Alexander Kreitner, licence expert at VENDOSOFT GmbH, to get the right CAL licensing for your server at low cost.

VENDOSOFT carries the access licences (User CAL + Device CAL) for all Microsoft Server as well as an extensive range of new and used Microsoft licences and cloud products. You can find them in our