The Microsoft Core CAL Suite
Almost every day at VENDOSOFT we experience situations where using a Microsoft Core CAL Suite is an option for our customers, but they have no idea about the product and its benefits. That's why we're providing you with detailed information in this way – including the following questions:
What does the Core CAL Suite include?
When is using a CAL Suite worthwhile?
Are there any special features for Enterprise CALs?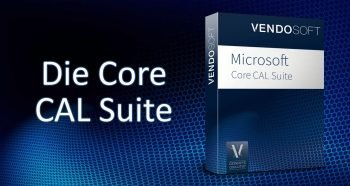 Use the explanatory video by Alexander Kreitner, licence expert at VENDOSOFT GmbH, to find the right solution for your server CALs quickly and above all cost-effectively.

VENDOSOFT carries the Core CAL Suite as well as an extensive range of new and used Microsoft licences and cloud products. You can find them in our